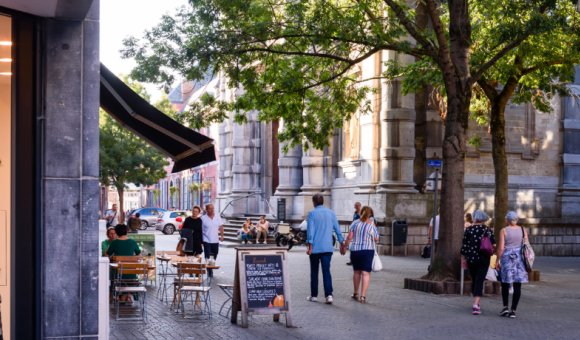 Wallonia is a great region to live in. This exceptional quality of life attracts investors, foreign students and the large numbers of tourists who visit each year. Wallonia is also developing a very diverse tourism offer, particularly for business tourism.
Furthermore, Belgium was ranked the 18th happiest country in the world by the World Happiness Report 2016, which analyses conditions in 157 countries and is based on 38 indicators such as the happiness of its citizens and well-being levels.
Heritage
Wallonia has a magnificent heritage, with thousands of architectural treasures including castles, churches and cathedrals, abbeys and historic buildings, all testimony to the genius of pioneering architects.
A number of sites and cultural events have been recognised by UNESCO as both tangible and intangible world heritage. The Gilles de Binche carnival performers are a vivid example of this.
You'll be amazed by the wealth of history, heritage, culture and folklore in Walloon towns: Charleroi, the comic book capital and home to one of the most beautiful photography museums in Europe, Liège, the ardent city with its railway station designed by Santiago Calatrava, Mons, cultural capital of Wallonia and European Capital of Culture 2015, Namur, the capital of Wallonia, famous for its hospitality, and Tournai, a historic city par excellence and one of the oldest cities in Belgium.
Culture
Wallonia regularly hosts major events and shows, some of which have received international awards. The Waterloo commemorations won the European Best Event Awards in Seville and Texas Aggies Go To War by Bastogne won an award at Cannes.
The region is home to famous artistic institutions, such as the Wallonia Royal Opera, the Liège Royal Philharmonic Orchestra, the Wallonia Royal Chamber Music Orchestra and Charleroi Danses, the choreography centre of the Wallonia-Brussels Federation. Formerly the Wallonia Royal Ballet, it now focuses on contemporary dance and is a benchmark institution both in Belgium and abroad.
Wallonia is also the region of festivals, which take place at different points throughout the year. There are festivals for every taste, from classical music at the Festival of Wallonia (more than 150 concerts throughout Wallonia and Brussels) to electronic and rock music (the Ardentes, Dour, Verdur Rock, etc.), via world music (Esperanzah) and the Francofolies in mid-summer.  Namur in May in... May, the festival of fairground arts, not forgetting the many festivals for film-lovers (the International Francophone Film Festival, the International Love Film Festival, the Ramdam Festival, the International 3D Film Festival, the Comedy Film Festival, etc.) and the KIKK Festival, dedicated to creativity in digital cultures.
Good living
Well-being, relaxation, health, nature and more. Wallonia is one of the best preserved regions in Europe. Its contrasting landscapes of plateaux and fertile plains, valleys and forests, rivers and lakes, charm the spirits, relax the body and sooth the soul. The abundant pure water is a perfect symbol and the word "spa" has become synonymous around the world with balneology and well-being.
Land of flavours
Wallonia is a centre of gastronomy, with culinary delights, local products and flavours coming together in original recipes. A number of initiatives have been implemented to revive certain forgotten culinary practices and create surprising recipes that respect tradition and demands for quality.
The Generation W collective brings together Walloon chefs and local food producers driven by their desire to promote this culinary and artisanal heritage.
Wallonia has talent
The Walloon collective imagination is full of real and imaginary people, both ancient and modern.
This incredible wealth can be seen in its magnificent comic strips, which have seen the creation of Tintin, Spirou and Pilote, heros such as Les Tuniques Bleus, Cédric, Blueberry, Buck Danny, Martine, Ric Hochet, Cubitus, Achille Talon, Jugurtha, Comanche, Buck Danny, Jerry Spring, Valhardi, Fantasio, Yoko Tsuno, Gil Jourdan, Robin Dubois, Léonard, Natacha, Dan Cooper, Tif and Tondu, Marc Dacier and deValhardi.
But it can also be seen in the works of Roger de la Pasture, Paul Delvaux, Jean-Michel Folon, Félicien Rops, René Magritte, Gustave Serrurier-Bovy… and those of important musicians in the history of western music, such as Lassus, Du Mont, Dufay, Grétry, Franck, Vieuxtemps, Ysaÿe, as well as Adolphe Sax, inventor of the saxophone.
Wallonia also has world-renowned writers, including Charles De Coster (and his Legend of Thyl Ulenspiegel), Henri Michaux, Georges Simenon, one of the most widely read and translated authors in the world, with his Commissioner Maigret, not to mention Henri Vernes, creator of Bob Morane.
There are also world-famous and award-winning producers, actors and actresses, such as the Dardenne brothers, Cécile de France, Emilie Dequenne, Bouli Lanners, François Damiens, Marie Gillain, Olivier Gourmet, Benoît Poelvoorde and Déborah François.